The Newest Wheelchair Accessible SUV by BraunAbility®

Built on the Chevy Traverse
BraunAbility's newest wheelchair accessible SUV pairs the sleek style of a crossover vehicle with the roomy space of a wheelchair accessible minivan! You can experience the SUV lifestyle without sacrificing room to maneuver your wheelchair. The Traverse offers 46% more space at the rear vertical over the BraunAbility Explorer, setting up this accessible SUV to be a game changer with nearly as much interior space as the Toyota Sienna wheelchair van conversion! Contact us TODAY! 1-800-918-7433.

---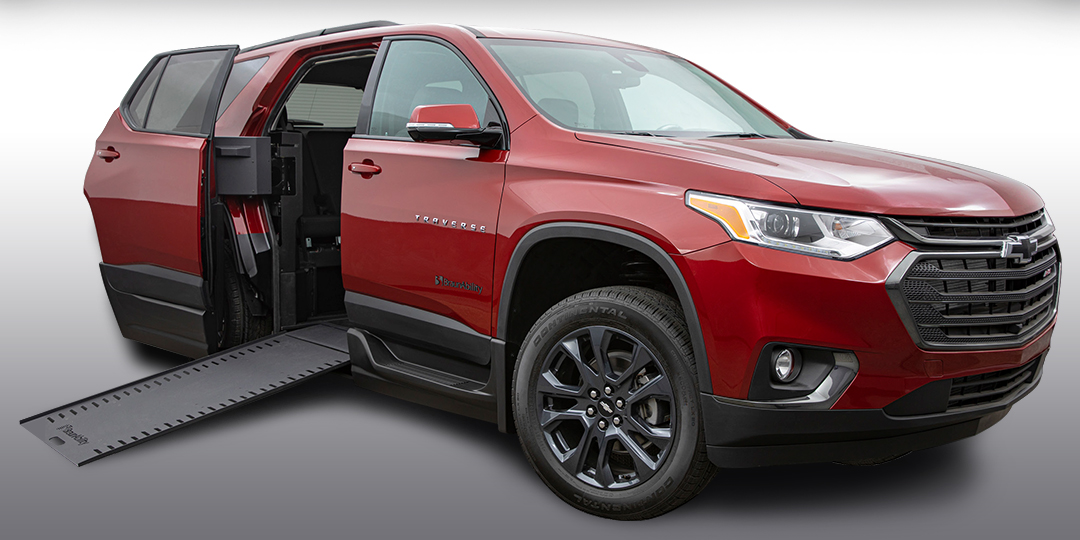 BraunAbility Conversion Features
• Power in-floor ramp with lighting
• Customized sliding shifter console
• Seats three 3rd row passengers
• Driver-side fuel fill
• Dual-arm ramp door for greater reliability
• Transfer seat capable
• Removable front seats
• Fits up to two wheelchair users
• Full-length, 3rd row footrest
• Removable cupholders
• Spare tire – remounted under fuel tank
• Rubber flooring option (factory-installed)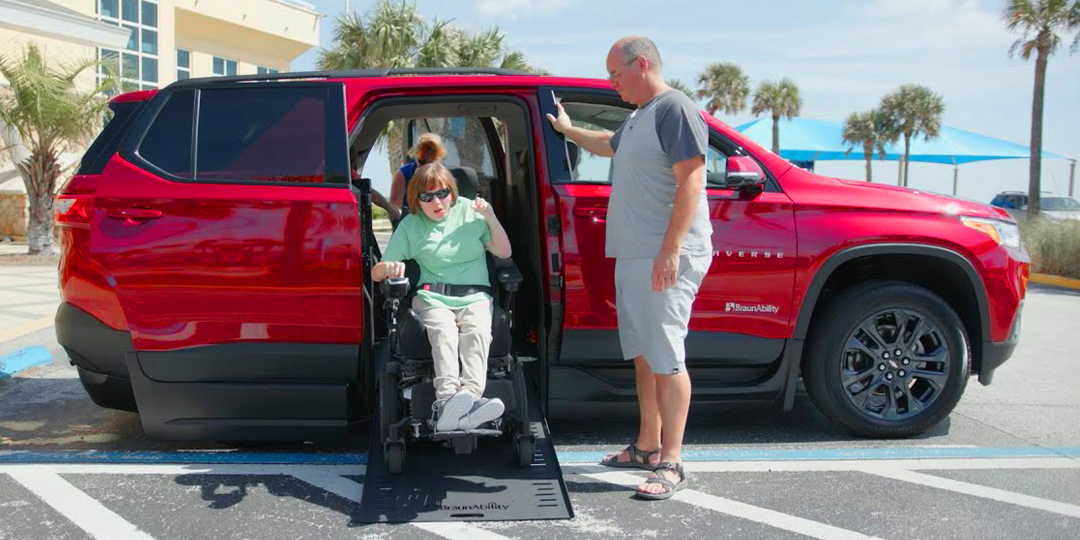 Traverse OEM Features
• 3.6L V6 engine
• Climate control seats (LT leather/RS)
• Heated steering wheel (LT leather/RS)
• Premium 8-in. HD color touchscreen (RS)
• Multiple power plug-ins
• Extra storage compartments
• Towing hitch
• 360 camera
• Back-up camera
Trim levels: LT leather, and RS
(front-wheel drive only)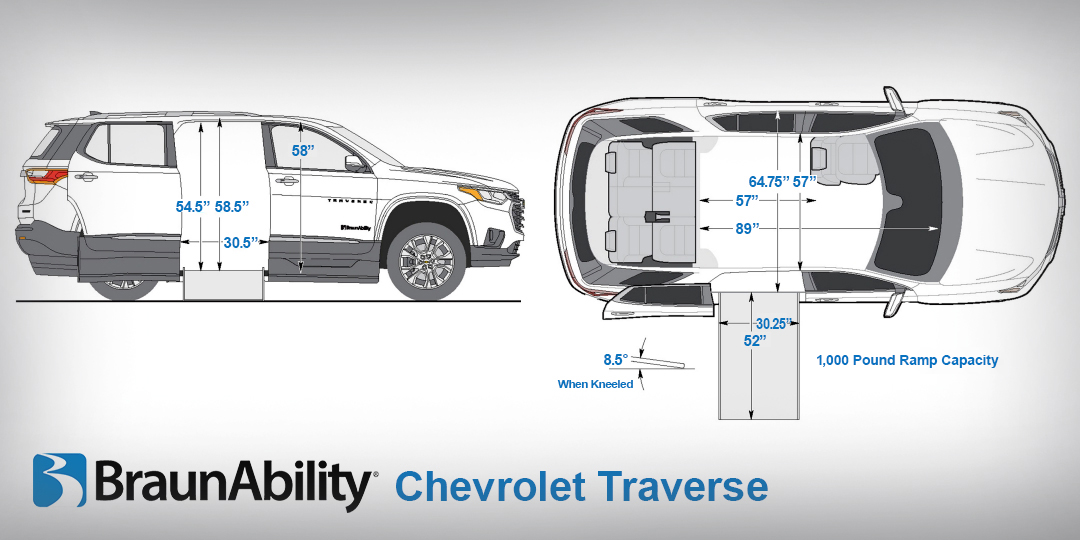 Specification Highlights

• 30.5" wide doorway and 30.25" ramp width
• 46% more space at rear vertical vs. Explorer
• Third row seating for three passengers
• Room for two wheelchairs
• Driver-side fuel fill, no ramp door interference
• Unmodified B-pillar
• Newly redesigned dual-arm ramp door for better door system reliability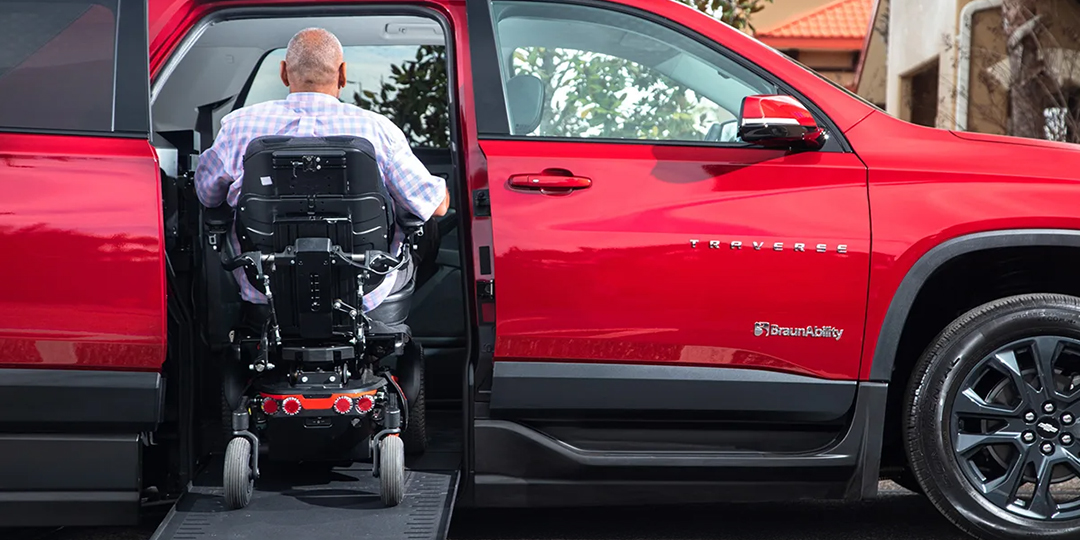 Ready to Test Drive the Wheelchair Accessible Traverse SUV? 
The 2020 Traverse has made several key improvements over previous mobility crossover vehicle conversions, including increased floorspace that can fit two wheelchairs, a three-person 3rd row seat, and a widened doorway and ramp. Interior features include an adjustable shifter that slides to allow for additional space when the vehicle is being driven, as well as adjustable armrests, center console and cup holders, all of which are modular to ease mobility constraints.
---
The Chevrolet Traverse wheelchair accessible SUV Mobility Crossover Vehicle (MXV) is the spacious handicap van alternative.
This latest handicap SUV, from the maker of the world's first wheelchair accessible SUV, BraunAbility®, utilizes the tried and true in-floor wheelchair ramp system that when stored keeps the interior of the vehicle open and clutter-free. The ramp has a 1000 lbs. load capacity, and the new chassis allows the wheelchair ramp width to increase significantly from the Explorer's 28-inch ramp to a wide 30.25 inches of available width to accommodate larger powerchairs, wheelchairs and mobility scooters. And, because it's an SUV, you can enjoy the sportiness you crave! Contact us to schedule a test drive TODAY! or call 1-800-918-7433.
---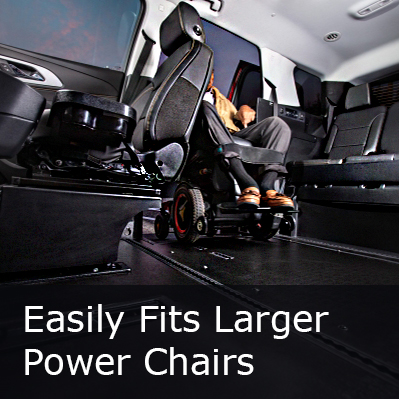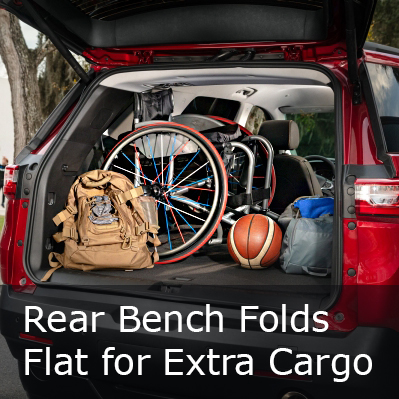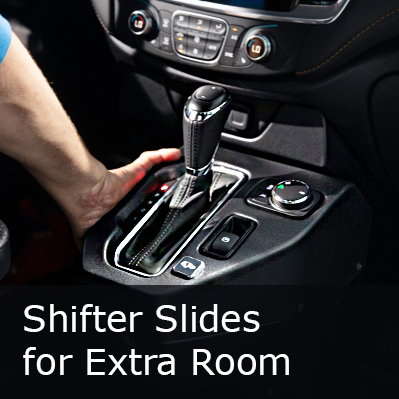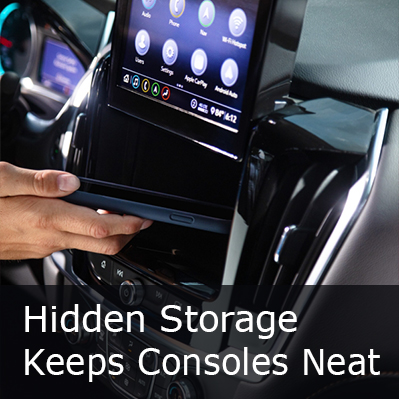 ---
How can I see the Accessible Chevy Traverse in Action?

Ready to see the BraunAbility Traverse in action? Give us a call to schedule a demo, and our expert Mobility Consultants will be happy to get you into the most versatile and spacious wheelchair SUV on the market today! Call us at 1-800-918-7433 or contact us about scheduling a demo. We provide in-person or virtual test drives and tours!  
Financing is Available, and Yes! we accept trade-ins!

---
---