What is a Turny Seat or Swivel Seat?
The BraunAbility Turny swivel car seat provides simple and safe entry for wheelchair transfers.

The BraunAbility Turny Evo mobility swivel seat is the #1 selling* handicap vehicle transfer seat for SUVs, trucks, and vans that moves completely outside the vehicle and lowers it down to your desired level. This makes it easier for you to sit down or transfer from a wheelchair. Once you're seated, push a button and the Turny Swivel Car Seat will lift you inside the vehicle. It's a simple yet very effective way to make your truck or SUV more accessible.
Schedule an appointment to discuss your swivel seat needs. Expert installation is available at all of our Florida locations.

---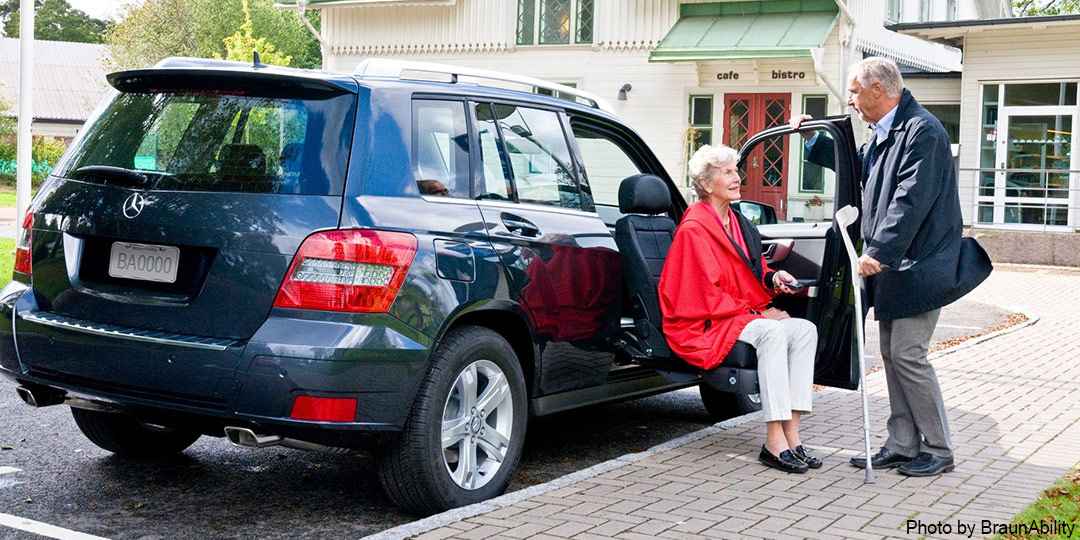 Simple & Safe Transfers

• Lower the seat to your desired height
• One-button activation for ease
• Passenger, Driver or Mid-row installation

For use with included Comfort Seat or with the original vehicle seat. The aftermarket Comfort Seat option preserves the original vehicle seat so it can be easily reinstalled later. Fully reclines with levers on both sides of the seat. Original seating options are available on select vehicles. Both the Comfort Seat and original Turny seat feature the following:

• Weight Capacity: 370 lbs
• Position: Driver or passenger side
• Location: First or second row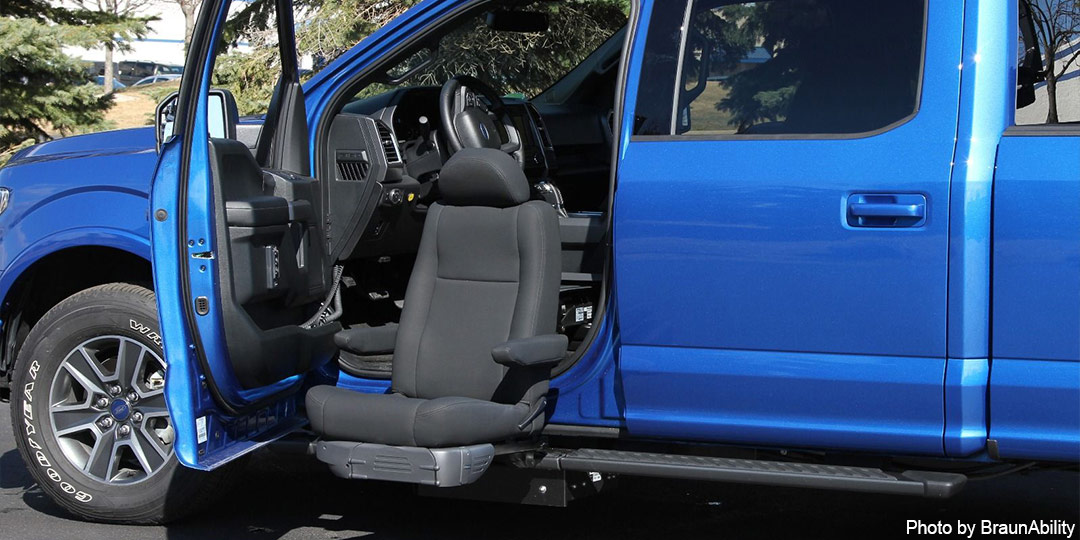 Swivel seats can be installed in your own vehicle.

The BraunAbility Turny Evo transfer seat lift gives you an accessible vehicle solution on over 200 different makes and models of trucks, vans and SUV crossover vehicles. Even more, the installation of the BraunAbility Turny Evo mobility seat is completely reversible and will not affect the resale value of your vehicle. This seat can also be removed and the original seat reinstalled.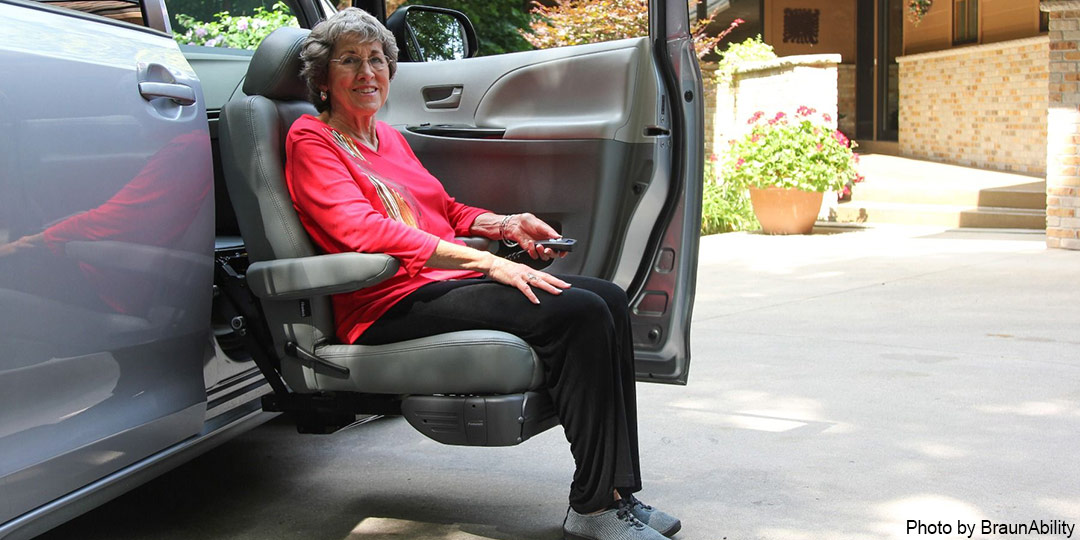 Turny Evo Seat Features

• Fits over 200 vehicles
• Fully powered: rotates, extends, up, down
• Power forward and backward
• One-button operation via hand-held control
• Optional smartphone app control
• Integrated flip-up footrest
• Ultra-quiet operation
• Travel time 35-65 seconds
• Manual backup system
• Eligible for automotive mfr. mobility rebates
• 3-year limited warranty (3-year parts/1-year labor)
• OEM seat application on select chassis types
• Original seat is unmodified for easy replacement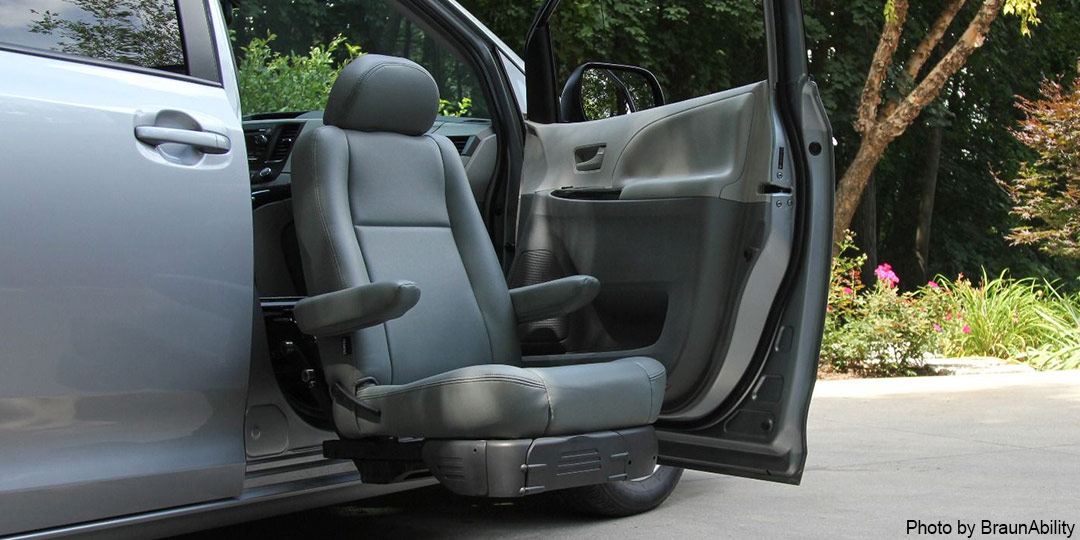 Transfer to and from your wheelchair with ease.
When using your BraunAbility Turny Swivel Car Seat, you can transfer to and from your wheelchair completely outside of the vehicle.
Always transfer to a lower point: Turny Evo handicap vehicle transfer seats can lower to the level you need. No matter if you're transferring from wheelchair to seat or seat to wheelchair, you can always transfer to a lower point.The Turny Swivel Car Seat for SUVs, trucks and other vehicles is perfect for independent drivers and passengers because the rotating seat lift allows you to enter or exit a vehicle in a safe and controlled manner.
---
A Note for Non Wheelchair Users: A Turny Seat May Be For You If...
...entering or exiting your vehicle is difficult for you. Simple as that. Getting seated in a vehicle can be tricky even if you don't have a diagnosed disability. Having a vehicle seat that swivels outside of a vehicle, and can lower to a comfortable height means easier entry and exit. This seating solution gives you the freedom to access your vehicle safely and comfortably. Contact us to schedule your swivel seat installation at one of our Florida locations today!
---
* Source: 2016-2018 mobility dealer sales reports