When it comes to securing a wheelchair or power chair in a wheelchair accessible vehicle, there are quite a few options. Some are more easily managed and less intrusive than others, but all achieve the same important goal: securing a wheelchair passenger or wheelchair driver.
Below, we will go over some of the more common and popular systems for securing a wheelchair in a wheelchair accessible van. This quick guide may help you make a decision on which wheelchair securement device or system will work best for your situation in a wheelchair accessible vehicle.  
Track and Straps System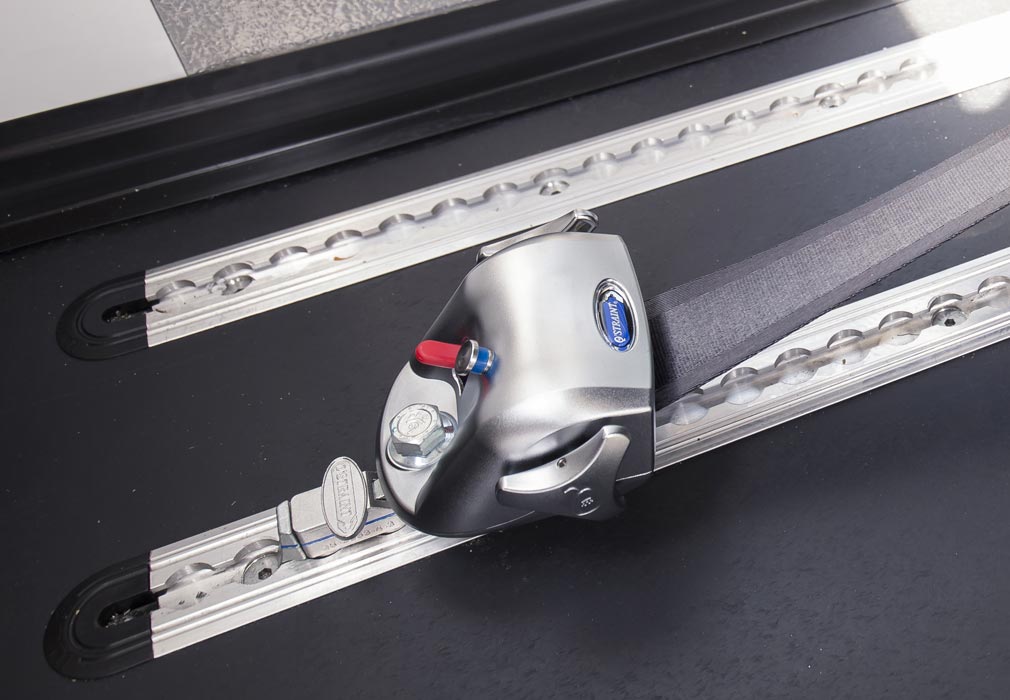 L-Track with Retractable Strap Attached
The most common way to secure a wheelchair inside a wheelchair van is by way of a track and straps system. This system consists of a metal track installed at various points in the floor of a wheelchair accessible vehicle. A typical configuration for a wheelchair accessible van is a track installed in the floor behind the front seats, stretching across the width of the floor, as well as a track installed in the floor in front of the rear bench seat. Furthermore, there are typically tracks located in front of the (typically) removable passenger seat, so a wheelchair user can be secured with straps while sitting in their chair in the front passenger position. The most common track style in use today is known as a L-Track. The track is designed in a way that allows a locking mechanism to attach and lock in straps, which are then attached to the appropriate points on the wheelchair, and properly tightened. This system of track and straps comes standard in most wheelchair accessible vans. 
When it comes to straps, there are two main types or styles that are commonly used. The first type, which usually comes standard in a Track and Straps system, is a manual or crank type strap. This type of strap requires manipulation of the straps locking mechanism to ensure the strap is tightened and then locked. Alternatively, there are retractable straps which are more convenient to use, and require minimal or no manipulation of the strap after it is attached to the wheelchair. This is because the retractable straps, as their name implies, tighten and retract the strap into a housing automatically, similar to the way a seatbelt automatically tightens once you release it. While it may be possible for a small number of wheelchair users to use a strap and track system on their own, the vast majority of the time it is not possible or practical. Which leads us to the next type of wheelchair securement.
Docking System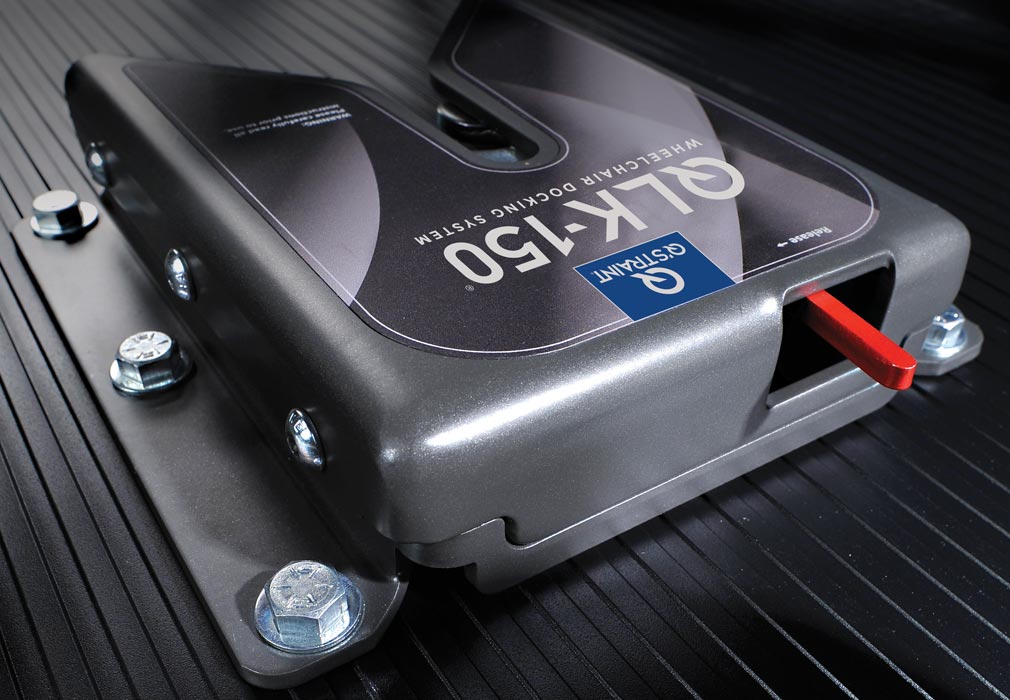 Q'Straint QLK-150 Dock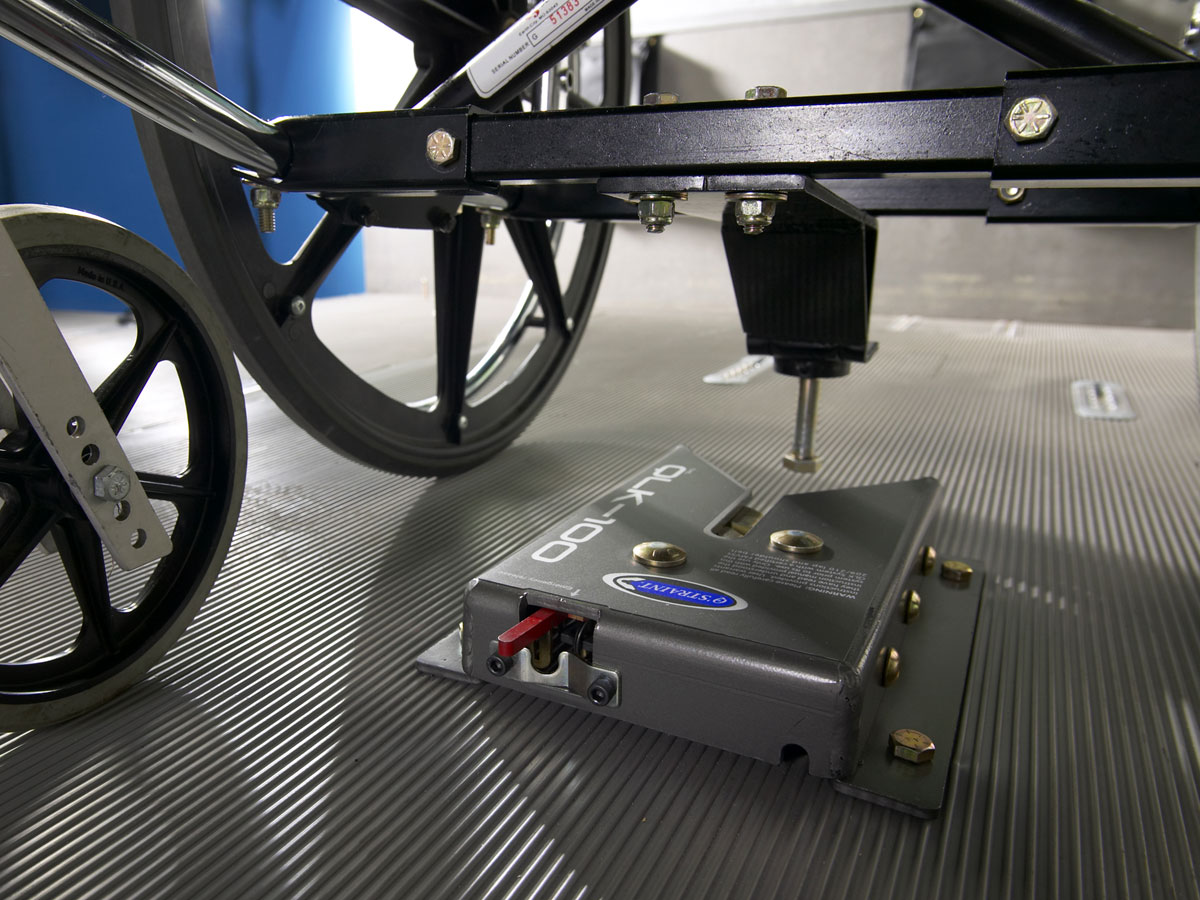 Wheelchair with pin & bracket installed, lined up to lock in to dock.
Although a Track and Straps system is the standard, there are situations when it either isn't the best option, or flat out won't work for a person's arrangement. Whether it be a matter of convenience, practicality, or independence, there is another popular option that many people turn to for wheelchair securement in a wheelchair van. That option is known as a Docking System. A docking system is typically comprised of a dock, which is installed in the floor and bolted to the frame of the vehicle. A corresponding bracket is then installed onto the bottom of the wheelchair or power chair. In practice, the wheelchair user will drive over the dock, and the corresponding bracket on their chair will lock into the dock securely. The final part of a Docking System is a small electronic control module with a button on it that, when pushed, releases the chair from the dock. No need for straps or a companion to help secure the wheelchair in the vehicle. The user would simply drive in, lock their chair into the dock, put their seat belt on, and go. This system is ideal for a wheelchair user who would like to drive their vehicle from their wheelchair or power chair as they would require no assistance to use the system. There are some limitations to a Docking System, however. For example, a docking system is installed in only one spot, so the wheelchair user would be restricted to having their chair in that position while using the docking system, unlike when using straps that can be placed anywhere on the track, allowing for multiple chair positions within the vehicle. Unless already installed in a preowned van one may purchase, a Docking System is an option that will need to be installed. The installation includes confirming that there is a corresponding bracket that is compatible with the model of wheelchair or power chair, as well as taking measurements in the position the user would like the dock placed to ensure that the chair will fit in that position inside the vehicle. 
Seat Belt Adapters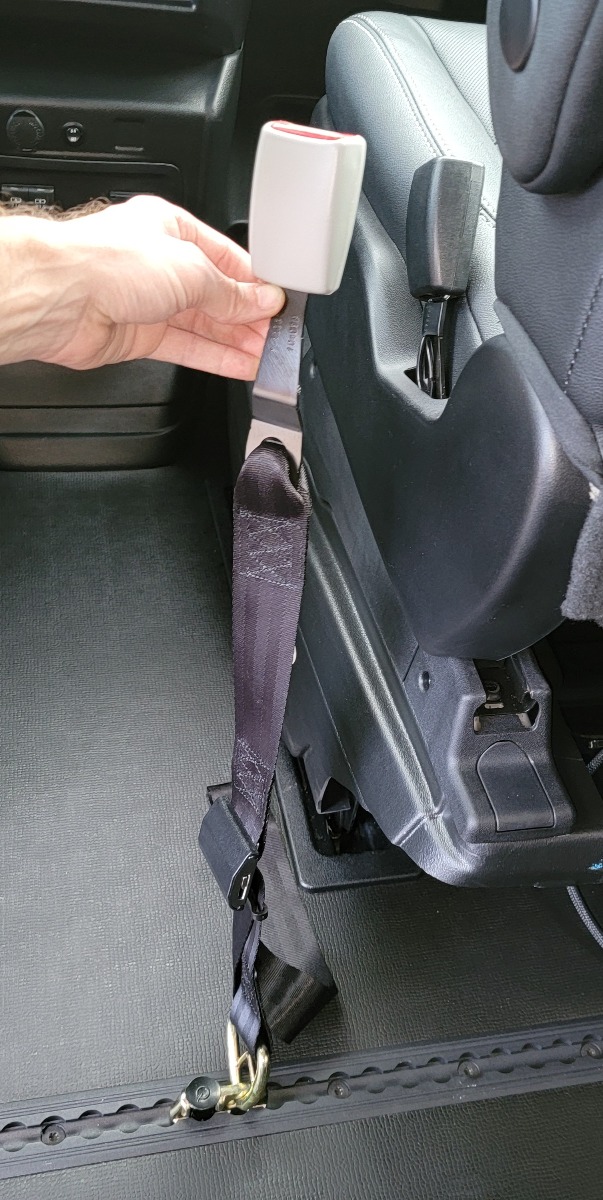 Standard L-Track Seat Belt Adapter/Extension 
Rigid L-Track Seat Belt Adapter/Extension  
Regardless of which system is used to secure the wheelchair, everyone needs to wear a seatbelt. A seat belt adapter is designed to connect to the track system that is present in the van and replaces the factory seat belt receiver that is usually attached to the seat. It is necessary when a person is riding in their chair in the vehicle, whether they are a driver or passenger. There are two main types of seat belt adapters. The first, or standard style, is made of the same material as the factory seat belt in the vehicle. This is what typically comes standard with a wheelchair accessible vehicle conversion. The second type is known as a rigid seatbelt adapter. A rigid seat belt adapter is called so because the belt portion is rigid. This allows it to stay in an upright position, which gives the user easier access when putting on their seat belt. With a standard seat belt adapter, the user either has to reach down to the floor to pick it up, or hang it off a part of the seat, etc…  
This guide is a good starting point to learn about the different ways to secure a wheelchair in a wheelchair accessible vehicle, however, you may have some questions. If that is the case, we encourage you to contact us by filling out this form. 
If you are interested in buying a wheelchair accessible vehicle, we encourage you to check out our wheelchair van inventory here, as well as this blog post that gives some information on types of wheelchair vans. 
Contributor: Joseph Rached