Dressing up for Halloween? Here are some ideas to make your wheelchair tie together with your costume.
For most states, October brings that nice crisp air, the scent of fire-pits, the changing of leaves, and decorations for Halloween - A time where anyone can become anything they want to be by dressing up as something fun, regardless of physical challenges!
Some of our favorite wheelchair costume ideas are pretty clever DIY dressups, and a few can even be purchased pre-made for those who aren't feeling as crafty.
Wheelchair Costumes for DIY-ers:
Since there are so many shapes and sizes of wheelchairs, do-it-yourself costumes are an excellent way to create custom wheelchair costumes. Here are some creative ideas we found around the web.
For those wanting to dress up their wheelchair for Halloween, some of the DIY options below from the 'Coolest Home Made Costumes' site and Pediatrics Plus are sure to get oohs and aahs - There are even a few couples wheelchair costumes!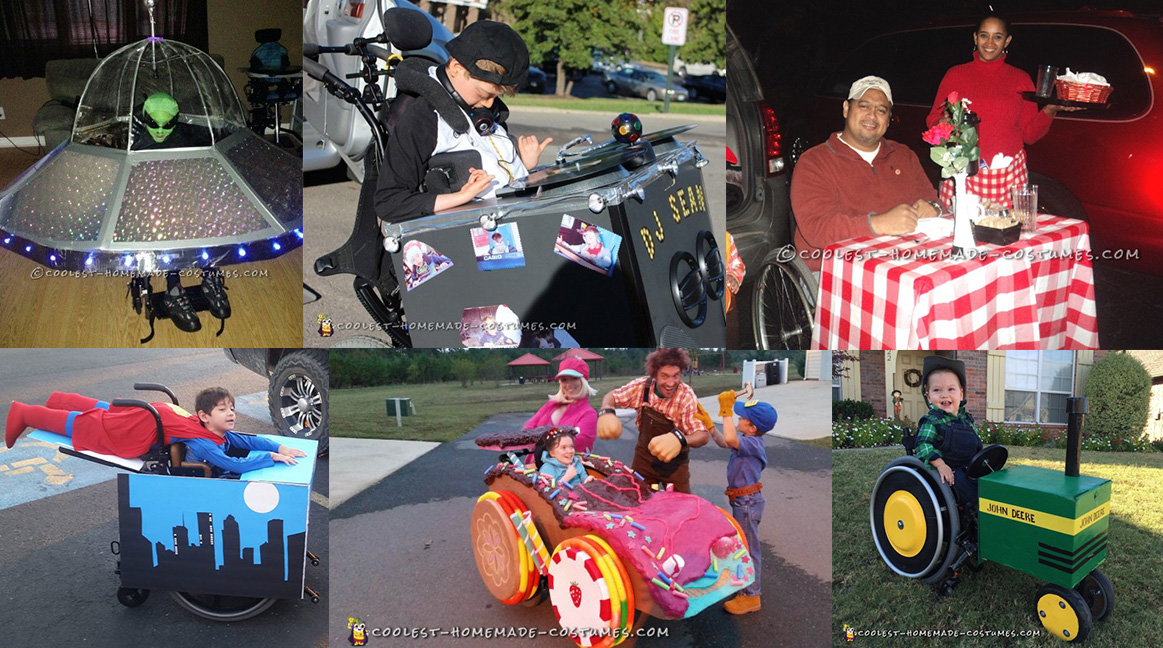 Above images by www.coolest-homemade-costumes.com
There are countless DIY Halloween costume options for people who are into going all-out for dressing up your wheelchair  - or your child's chair or walker. Many of these are simple, but some are very complex, so depending on your level of creative prowess, you may wish to modify some ideas to your skill level and still see awesome results. With the variety of wheelchair costume ideas out there, the hardest part may be deciding which is your favorite! 
We found a few "recipies" as you will, for pulling together the adorable kids' wheelchair and walker costumes below:

Above images by www.www.pediatricsplus.com (instructions are available there too!)
---
Group Costumes are something to consider too. For example, if you've chosen to be a superhero, your family and friends can be related heroes - or even the villians!
Where can I get a pre-made wheelchair costume?
We appreciate that Target has an adaptive clothing line. They also carry accessible costumes and accessories which include both accessible and sensory-friendly costumes! The costumes Target carries for children in wheelchairs include rocketships, witch brooms, pirates, mermaids and more.  Both the costumes and the wheelchair covers allow for simple modifications to help fit any wheelchair or wheelchair user.
Disney also has a few options like Cinderella's carriage and the Incredibles Incredimobile. 
Rolling Buddies is another great company offering wheelchair costume accessories for sale. Their line of wheelchair costume pieces is pretty vast, and includes panels that attach to your wheelchair to complete your look. Paired with a wearable costume, these accessories help create a fun and complete Halloween costume for wheelchair users. You can find Rolling Buddies costumes on Etsy and Amazon.
And, if you want to go all-out, how about dressing up your wheelchair van too? You'll be the hit of the trunk-or-treat!
Tips for Making Halloween Inclusive at Your Home
The tricks, treats and fun of Halloween should be for everyone. Unfortunately it is not always easy for wheelchair users to participate in the customary activities. With your wheelchair costume ideas and sources in mind, here are a few other ways you, your family, and your friends can make Halloween night easier and more accessible for wheelchair users, and also children who may have dietary restrictions:
Do a trial run. If you're the parent of a child with a disability, it's recommended that you make a trial run, a day or 2 beforehand, where you plan on trick or treating. This way, you can plan your route and know which homes are accessible so you can spend quality time going to the homes that will be fun and simple to navigate.



Clear a safe path on level ground

. If you don't have stairs or a steep driveway, wheelchair users will be able to get to your door, but only if you keep the path clear of debris and decorations. Keeping your path well-lit will also be helpful to everyone.



Bring your treats to the sidewalk.

Steep driveways and stairs to the front door can be barriers for wheelchair users. If you bring your Halloween treat bowl down to the sidewalk to hand out snacks, you open up the trick-or-treating experience to kids of all abilities. Plus, you get a chance to show off your own costume!



Offer non-candy options.

While candy is a fun and enjoyable part of Halloween trick-or-treating, many kids may have food allergies or difficulty eating candy. Offer a non-candy alternative, like bubbles, glow sticks or temporary tattoos. This will make the experience much more inclusive for all kids to enjoy and participate in. If you choose to offer non-candy alternatives, it's a good practice to mark your home with a teal pumpkin on your doorstep, so parents can easily spot which houses offer this option.

A Note on Social Distance: Of course, remember to take extra precautions for social distancing and face mask use this Halloween. You can ensure safety and peace of mind for your guests by offering a hand sanitizer station at the door, and using tongs or a scoop to pass out treats for a contactless trick-or-treat experience.
Trick or Treat Tips from the CDC
Wheelchair Costume Resources:
'Coolest Home Made Costumes' Site with over Eighty Wheelchair Costume Ideas
Walkin' & Rollin' Costumes Built by Volunteers
Kid's Wheelchair and Walker Costume Ideas and Instructions from Pediatrics Plus
...