PSA: Wheelchair Van Buyers Beware - Hidden Fees
When shopping for a new vehicle, most wheelchair van shoppers will do some research, see what's available, and head over to a wheelchair accessible vehicle dealership to test drive and hopefully buy the vehicle they want. 
Recently, we've had an increasing number of clients who were discouraged after dealing with a certain nationwide wheelchair van dealer, and they all have had a similar story. They were shopping for a new wheelchair van and found one they liked. The color, options, and most importantly, the price, seemed right. At least until the salesperson they were working with showed them the deal so they could sign it. It was then they realized something had changed. And that something was the price. It was noticeably higher than what was advertised. After taking a closer look at the order, they noticed all kinds of extra fees and charges tacked on top of the advertised price of the vehicle. $699 for a documentation fee, $500 for a registration fee, $500 for NMEDA (National Mobility Equipment Dealers Association) certification, and more. 
 ____________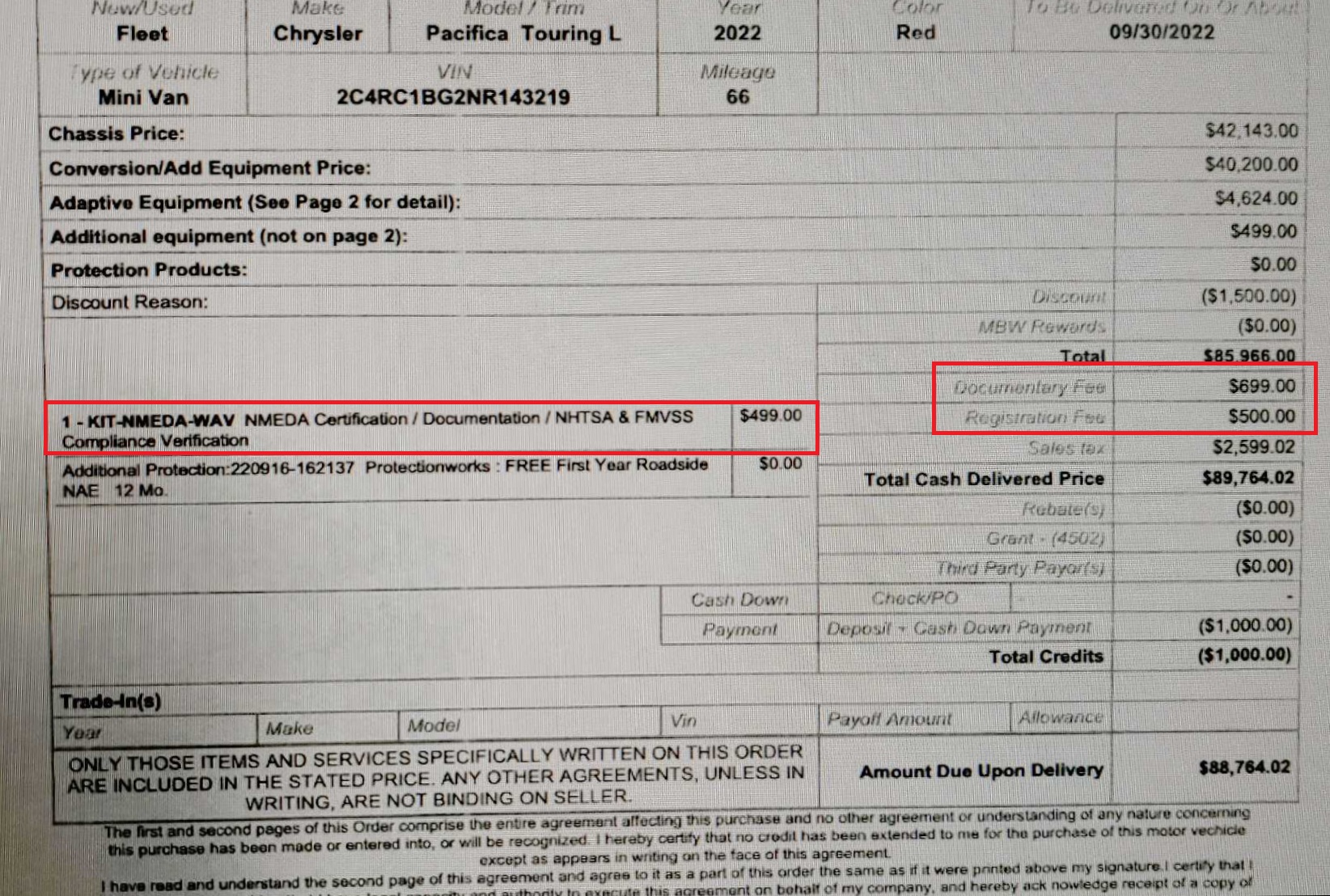 Wheelchair Van Invoice With Hidden Fees Marked In Red 
____________
One of the most common hidden fees at wheelchair van dealerships is the "dealer prep" fee. This fee is often added to the purchase price of the van and can be several hundred dollars. The purpose of this fee is to cover the cost of preparing the vehicle for sale, such as cleaning it and making any necessary repairs. However, many consumers rightly feel that this fee should be included in the advertised price of the van. Another hidden fee that consumers should be aware of is the "documentation fee." Also known as a "doc fee", this is charged by the dealership to cover the cost of processing paperwork related to the sale. This fee can range from a few hundred dollars to over a thousand dollars. While this fee is legal in many states, it can be a significant expense for consumers, especially if they are not expecting it. In addition to these fees, some wheelchair van dealerships may also charge consumers for additional accessories or modifications to the van. While these add-ons can be helpful for wheelchair users, they can also be expensive and not wanted by the buyer.
When questioned about these additional fees, many dealers will point to the fine print, or express the attitude of "if you don't like it, don't buy it.". At Mobility Express, we find this type of behavior from wheelchair van dealers to be unacceptable. After reviewing copies of deals that our clients brought to us from other dealers, we both realized the price the dealers were charging for the vehicle itself included a substantial upcharge over the MSRP of the vehicle as well.

To avoid hidden fees at wheelchair van dealerships, it is important for consumers to do their research before making a purchase. This includes researching different dealerships, comparing prices, and asking for a detailed breakdown of any fees associated with the purchase. Wheelchair van shoppers should also be wary of any dealer who is not transparent about their pricing and fees up front.
Mobility Express has never, and will never, add any hidden fee or charge to a deal. When buying a wheelchair van from Mobility Express, you can rest assured that the price you see is the price you pay. If you feel unsure about a deal you're making with another wheelchair van dealer, come to Mobility Express where we are fully transparent about how our wheelchair accessible vehicles are priced.

Feel free to contact us by calling: 
OR