Here's exciting news for caregivers looking for a sporty wheelchair accessible vehicle that fits their personal style and functionality needs! Vantage Mobility International (VMI) announced this year that they're building the Honda Pilot wheelchair conversion, opening it's assembly line in summer of 2017.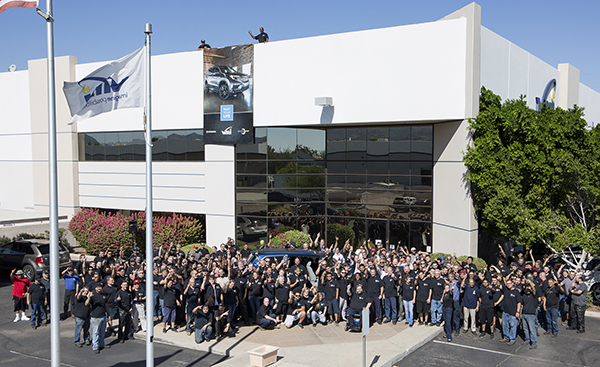 Photo source: https://www.vantagemobility.com/blog/%253Fp%253D4891
Car and Driver Magazine ranks this sporty SUV in the top 10 of its class. Similar to the wildly popular Honda Odyssey minivan in functionality and performance, the Honda Pilot SUV is built for those who would love to drive anything but a minivan.
Described as a family mid-size SUV, the Honda Pilot body construction and independent suspension is designed to provide handling similar to that of a car and has integrated perimeter frame rails to allow towing and light off-road use.
This popular SUV comes packed with safety features collecting multiple top safety ratings, including a multi-angle rearview camera with guidelines, and available options for Collision Mitigation Braking System™ and forward collision warning.
Sure to be a Favorite for Accessibility Conversions
Style, space and performance made the Honda Pilot an ideal candidate for VMI to build a mobility conversion especially for those who are looking for alternatives to minivans without sacrificing ease of use and passenger comfort.
The VMI Honda Northstar E™ Caregiver SUV combines the style of an suv with no hassle in-floor ramp and space for the whole family. The Honda Pilot offers spacious entry, both in width and height. Designed especially for caregivers, the Pilot offers mobility passengers 360 degree maneuverability in the cabin, ultimately securing in the front passenger area. The roomy cargo area in the back is preserved, ideal for errands and road trips.
All new vehicles come with a 3-year/36,000-mile Basic Limited Warranty and a
5-year/60,000-mile Fleet Powertrain Warranty.
Honda Pilot Mobility Conversion features include:
Space - ability to accommodate both manual and power wheelchairs
Door opening: over 55" tall and 29" wide enough to enter and exit
Interior height: over 57" for ample headroom
Interior space: over 25 square feet to maneuver 360 degrees
Ramp: over 29" wide and less than 9.5 or 12 degree rise for easy entry and exit
Ramp capacity: 800 lbs, suitable for heavier chairs
Comfort - Seating and features that improve overall comfort
Removable front seats with OEM power options
Dash-mounted cup holders and storage
Full-size rear bench foot rest with under bench storage
Interior lighting to illuminate cabin and floor
Ground clearance less than 4.5" for a smooth ride.
Style - Refinement that enhances the experience
Integrated nerf bars on front driver and passenger doors
Sound deadening and undercoat to reduce noise
Integrated tow hitch
Mobility - Obstruction free features that improve ease of use
In-floor ramp for more space, unobstructed door and clean interior
Power backup for in-floor ramp in case of vehicle power loss
One-touch key fob that opens the door and deploys the ramp automatically
Fully cantilevered seats to allow extra room for maneuvering
The Honda Pilot conversion vehicles are in production now and are expected to be available in 2018. Conversion pricing is expected to start at $23,599, with rebates available.
Call (800) 918-7433 today with your questions.