RAM ProMaster Full Size Wheelchair Vans

Similar to the Ford Transit, the RAM ProMaster is a full size van that can be converted for wheelchair access and can be had in a number of different configurations. The ProMaster can come with a 118", 136", or 159" wheelbase. The options for the roof are either Standard roof or High roof, and there is also an extended cab version with extra interior space behind the rearmost bench seat. 

The sliding door of the RAM ProMaster offer an opening height that doesn't require any modifications for wheelchair access which means the structural integrity of the chassis isn't possibly diminished with cutting or welding. The RAM ProMaster full size wheelchair van can be configured to accommodate many different layouts for wheelchair occupants, with some setups having enough room for 3 or more wheelchair occupants, along with ambulatory passengers. A lift system can be installed at either the sliding door position on the passenger side, or at the rear barn doors of the van, depending on how the user needs the van setup. Furthermore, a RAM ProMaster wheelchair van is able to have a BraunAbility UVL (Under Vehicle Lift) installed which is a lift that is installed on the undercarriage of the vehicle below the passenger side sliding door. This is possible because the RAM ProMaster is Front Wheel Drive, whereas the Ford Transit is Rear Wheel Drive and has a driveshaft along the underside of the vehicle, preventing a lift from being installed underneath. This is one area where the RAM ProMaster wheelchair van has a decisive advantage over a Ford Transit wheelchair van, as having the lift installed under the vehicle frees up a lot of space inside the vehicle. Below you will see some diagrams showing various configurations for the occupants to give you some ideas of what is possible with a converted RAM ProMaster wheelchair accessible van.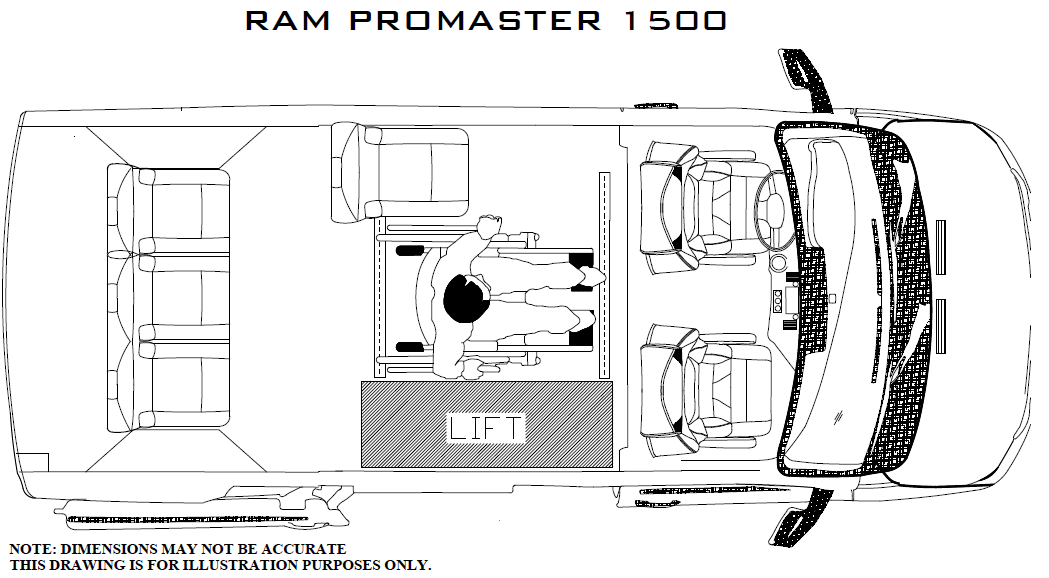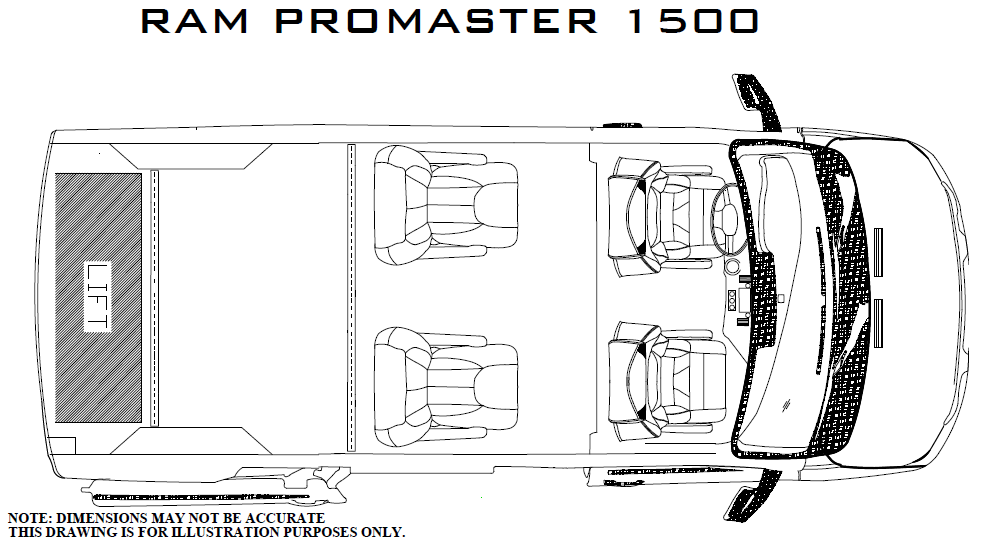 If you would like to learn more about RAM ProMaster wheelchair vans, or would like to set an appointment to see and test drive a Ford Transit wheelchair accessible van, please contact us by filling out this form, and we will get back to you within 24 hours.
Check out our video about RAM ProMaster Full Size Wheelchair Vans:

RAM ProMaster Wheelchair Van Conversions
There are a host of companies that convert the interior of the RAM ProMaster full size wheelchair vans. These companies, some of which will be listed below, have a range of packages with various amenities that can really change the look and feel of these vehicles. These include options like a second A/C unit, carpeting, wood trim, entertainment system (BluRay/DVD player and monitor), and more to personalize the vehicle how the user would like it.
Popular Full Size Van Conversion Companies:
Tempest Vans

Prime-Time Specialty Vehicles

Sherrod Vans


If you are interested in learning more about full size wheelchair vans for sale at Mobility Express, please contact us by calling (800)918-7433, or by filling out this contact form.