Call Today! Wheelchair Van Specialists Standing By:
 (800)918-7433 
Mobility Express has been involved in the wheelchair accessible van industry for over 20 years. Mobility Express was one of the first certified dealers of wheelchair accessible vehicles in all of Florida. This page was created to give our customers some information and education on the wheelchair accessible vehicles offered by Mobility Express. Mobility Express is based out of Florida, and stocks wheelchair accessible vans at its office locations in New Port Richey, Largo, and Ocala. We serve the entire state of Florida, including cities such as Orlando, St. Petersburg, Miami, Fort Myers, Bradenton, Sarasota, Jacksonville, West Palm Beach, Gainesville, Crystal River, Tallahassee, Pensacola, and more!
The following is a list of terms that are commonly used to describe a wheelchair accessible vehicle:
Wheelchair Van, Wheelchair Accessible Van, Handicap Van, Handicap Access Van, Handicap Accessible Van, Ramp Van, and Wheelchair Access Vehicle.
Mobility Express offers new wheelchair vans and pre-owned wheelchair accessible vans at competitive prices. When it comes to pre-owned wheelchair vans, there is a stringent intake process. This intake prcoess, performed on every pre-owned wheelchair accessible van that comes into our inventory, includes a multi-point mechanical safety inspection, multi-point conversion inspection, cosmetic inspection, and anything else the vehicle requires to meet our high standards. You can rest assured, when you're considering a van from Mobility Express, you are considering some of the best options on the market!
The following is a list of vehicle models that are currently available to be converted to a wheelchair accessible vehicle by BraunAbility:
Chrysler Pacifica
Dodge Grand Caravan
Ford Explorer
Honda Odyssey
Toyota Sienna 
The following is a list of vehicle models that are currently available to be converted to a wheelchair accessible vehicle by VMI:
Chrysler Pacifcia
Dodge Grand Caravan
Honda Pilot
Toyota Sienna 
There are multiple types of wheelchair van conversions, and each type has mutiple variations. Below, the different types and variations of wheelchair accessible vehicle conversions are covered.
Side Entry Ramp Conversion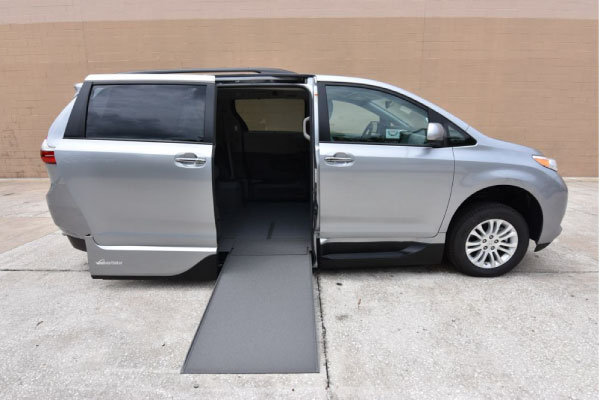 On a side entry ramp conversion, the ramp extends out from the passenger sliding door position. This style of conversion is typically fully automatic, with the user needing only to push a button to activate the conversion system. However, manual ramps are available, typically at a lower price. There are two variations of Side Entry Ramp conversions, and they differ on how the ramp is stowed when not in use. The two variations are "In Floor Ramp" and "Folding Ramp'. With an In Floor Ramp, when the conversion is activated to stow the ramp, the ramp will automatically retract and slide underneath the floor of the van, totally out of sight. A Folding Ramp conversion differs in that when the conversion is activated to stow the ramp, the ramp simply folds up and is stowed in the doorway of the vehicle. There are many reasons why someone may want or need to go with one variation over the other. While the In Floor Ramp may be more cosmetically appealing because it is not visible when not in use, the Folding Ramp is more practical in the case of a loss of power to the conversion. In this case, the user could simply push a Folding Ramp to deploy it and exit the vehicles, whereas the In Floor Ramp would be very difficult for a wheelchair bound individual to deploy manually. These circumstances are exceedingly rare, as some conversions now come with a small back up battery. This battery gives the user enough power to open and close the converison to exit the vehicle, should the vehicle's main battery fail. 
Rear Entry Ramp Conversion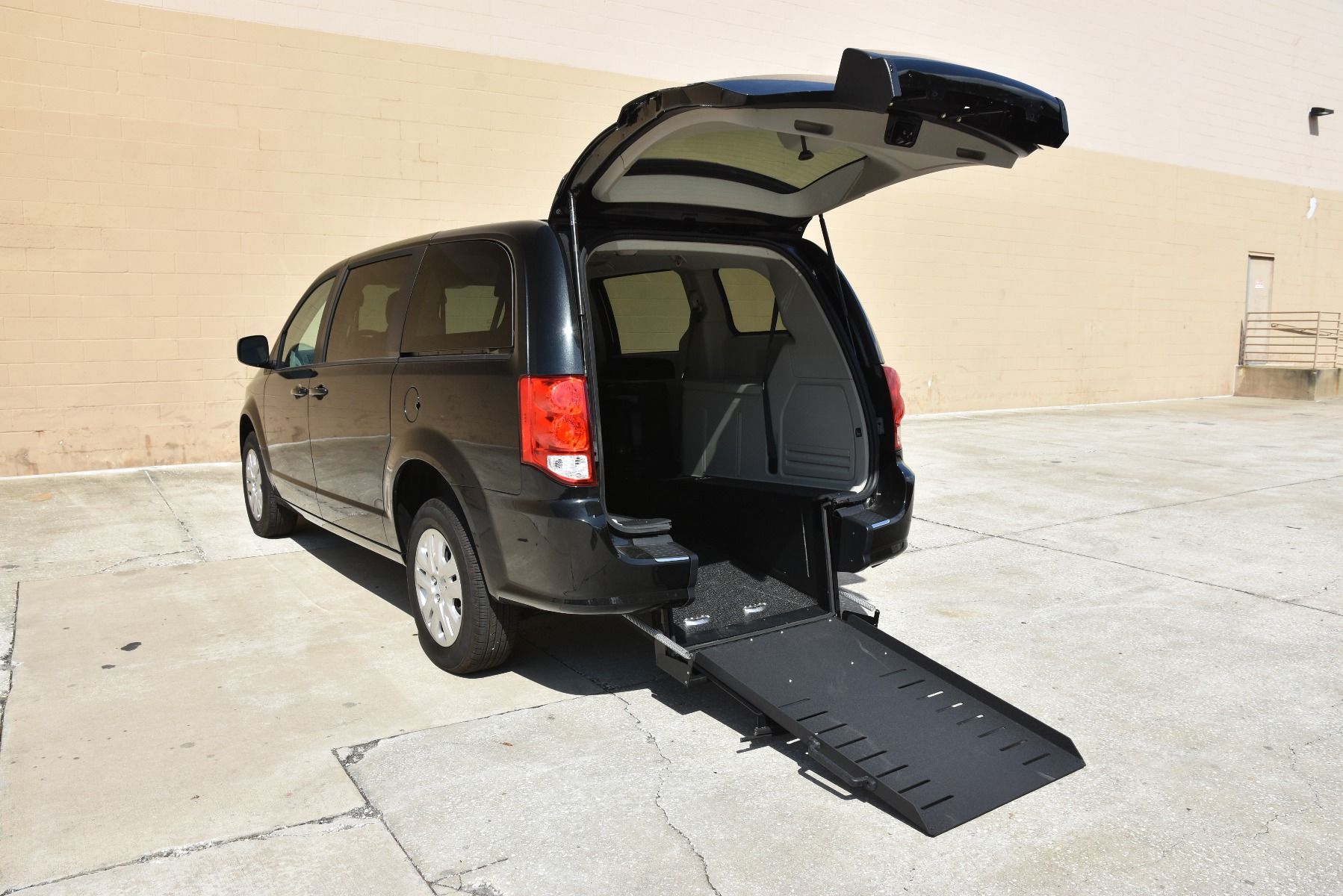 With a rear entry ramp conversion, the ramp is deployed from the rear door or hatch of the vehicle. Rear entry conversions are more commonly found in a manual configuration, however, there are power rear entry conversions available. With rear entry conversions, the only ramp option is a folding style. Rear Entry van conversions are set up for passenger only applications over 9 times out of 10. This is due to the design of the conversion, which isn't conducive for a wheelchair or power chair user to be a driver.
Rear Entry conversion vans are typically priced lower than side entry conversion vans. Part of this relates to the majority of rear entry conversion vans having a manual conversion. This means a simpler design with less electronics and moving parts. In other words, less things that need maintenance over the life of the vehicle. The design of a rear entry conversion is such that there is no turning or maneuvering required to position the wheelchair passenger. It is just straight in, and when ready to exit, straight backwards to get out. The length of the lowered floor section in a rear entry van conversion can vary, and the length of the lowered floor is referred to as a "cut". The majority of rear entry vans have what is know as a "full cut". A full cut describes a lowered floor section that extends from the rear hatch/door, all the way to the back of the driver and front passenger seat. 
With this conversion, there are typically a few seating options for ambulatory passengers, including a factory or aftermarket seat installed on either side of the lowered floor section. A "half cut" rear entry conversion describes a lowered floor section that extends from the rear door/hatch to the back of the 2nd row of seats. This converison allows for the trasnport of a wheelchair or power chair passenger, as well as maintaining the 2nd row seating that came from the factory (usually a bench seat).